June 10, 2010 – CASA DEL POPOLO- 9PM- Emeralds + Moth Cock + Drainolith + Dreamcatcher
EMERALDS
Emeralds are an ambient/drone music trio from Cleveland, Ohio.
John Elliott, Mark McGuire and Steve Hauschildt began playing music together under the name Fancelions in 2005 in Cleveland's western suburbs of Bay Village and Westlake. However, due to a desire to simplify and focus more on live improvisation, they re-formed as Emeralds, playing their first show under that name in June 2006. Since then the group has released over thirty recordings, on labels such as Hanson Records, American Tapes, Manhand, Ecstatic Peace! and also on their own imprint Wagon.
The album Solar Bridge, released in 2008, is their most widely known release to date. In fall of 2009 the band self-released the follow-up full length to Solar Bridge which is self-titled Emeralds, as well as the monstrous What Happened on No Fun Productions.
In the coming years Emeralds releases will appear on Editions Mego and Industrial Records.
They have collaborated with Aaron Dilloway on the cassette Under Pressure, released a split tour CD with Japanese noise musician Pain Jerk and opened for Throbbing Gristle in New York. The band has also had the pleasure of performing headlining spots in Carlos Giffoni's No Fun Fest in New York and Stockholm, Sweden. Mark McGuire and Steve Hauschildt also perform and record under their own names. John Elliott performs as Outer Space, Imaginary Softwoods, and as various other aliases.
Emeralds are noted for blending ambient music with 80's synthesizer textures, German kosmische music and the minimalism of Terry Riley.

http://www.last.fm/music/Emeralds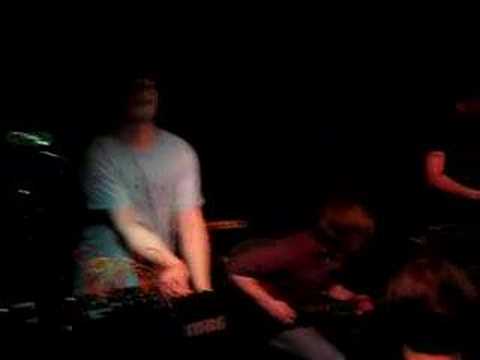 MOTH COCK
Moth Cock is made up of Doug and Pat who've been living together and making jams since 2006.
http://www.myspace.com/cockmoth

DRAINOLITH
Drainolith has been the moniker for most solo activities undertaken by Montreal musician Alexander Moskos since 1998. The name was invented in order to fill out catalogues for Moskos bedroom label She Sells Records (shesellsrecords.blogspot.com)
Moskos works with analog synthesis, modified consumer electronics and ancient electronic drum scraps to create his music. Drainolith takes its cues from a higher modernism: early 20th century vernacular architecture, jazz pianists Bud Powell, Art Tatum and Cecil Taylor, the slow aesthetic, Iannis Xenakis as well as more recent additions to the out-there canon: Baltimore's Nate Nelson (mouthus, afternoon penis), Michigan,s noise underground and his extended Network of friends and accomplices.
Moskos' activies in Montreal range from being the first-chair guitar in noise rock group AIDS Wolf, collaborating with Blake Hargreaves in Thames, Alex St-Onge and Roger Tellier-Craig in Et Sans, Philippe Lambert in Goa! and Brian Damage and Michael Caffrey in The Unireverse.
2010 will see the release of a new Drainolith record called "Hi Lux" as well as a collaboration with John Elliot (Emeralds/Outerspace), a two week US tour and recording of a proper LP.
http://www.myspace.com/drainolith

DREAMCATCHER
Formed in Montreal in 2004, DREAMCATCHER, composed of Katherine Kline and Blake Hargreaves, is one of the grandest and loudest outfits in Montreal's explosive underground music scene. DREAMCATCHER's hot-wiring, saturated and hypnotic sound layers, as well as strings and splatters of sonic mess and power-electronics/old-school/new school aesthetics, have earned them a devoted following in Montreal and beyond throughout the years.
After a handful of limited releases, like 'HOLYSMOKES' (a live performance on CKUT 90.3 McGill) on ALIEN8 RECORDINGS, the group finally gave birth to their first proper album, NIMBUS CD/LP in 2005 (OHNONO/FLUORESCENT FRIENDS), to great acclaim.
The present collaboration between DREAMCATCHER and .ANGLE.REC., a project that was initially envisioned some time ago, breathes a second life into a pair of past productions initially released by two of today's most influential art-house labels, releases that until now, only a handful of enthusiasts had the opportunity to hear.
Originally produced on cassette in very limited editions on the AMERICAN TAPES label (run by WOLF EYES' John Olson) and NAUTICAL ALMANAC's HERESEE label respectively, "PROM NIGHT" and "EYES OF LEATHERFACE" are archived here on clear vinyl, side by side, original label artwork provided, for an enlarged audience and for posterity. These two outstanding DREAMCATCHER sessions include material from their first recorded jam ever, and rank among the favourites of the duo. They represent the furthest expanse and total richness of DREAMCATCHER world-changing vision. And furthermore this is without a doubt one of the sickest, most twisted and noisiest releases from the .ANGLE.REC. camp so far, and with it, the sonic territories covered by the label strech again. It also is the label's first 12'' release! This monstrous, tension filled and chunky plate of sound with lots of unexpected eruptions and aural collisions is limited to 300 copies.
Blake's first record "The Waxathon" came out in 2003; he also co-runs the FLUORESCENT FRIENDS label and plays in the psych-core bands COUSINS OF REGGAE and THAMES. Katherine does solo work as CELINE BEYOND and is a member of DEATH DRIVE and WONDER YEARS.
www.angle-rec.net/ar12_en.html
http://www.myspace.com/thisisdreamcatcher